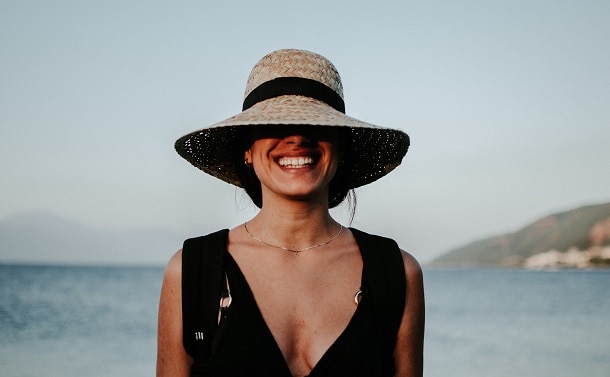 If you're going through a bad day or week right now or you just want to start your morning off on the right foot then you're in the right place.
Because in today's post I'd like to share 114 of the best feel good quotes of all time.
Timeless thoughts to help you lift yourself out of negativity and a pessimistic perspective, brighten your day and give you a big boost of motivation right now.
So let's get started.
And if you want even more inspiration then check out this post with quotes on progress and this one with hang in there quotes.
Uplifting Feel Good Quotes
"Just one small positive thought in the morning can change your whole day."
Dalai Lama
"There is only one happiness in this life, to love and be loved."
George Sand
"When you are at peace, you attract positive energy."
Sen
"Happiness consists more in small conveniences or pleasures that occur every day, than in great pieces of good fortune that happen but seldom to a man in the course of his life."
Benjamin Franklin
"Happiness depends upon ourselves."
Aristotle
"The darkest nights produce the brightest stars."
John Green
"Choose to be optimistic, it feels better."
Dalai Lama
"You aren't just the age you are. You are all the ages you ever have been!"
Kenneth Koch
"Let us be grateful to the people who make us happy; they are the charming gardeners who make our souls blossom."
Marcel Proust
"Happiness is not something ready made. It comes from your own actions."
Dalai Lama
"Believe you can and you're halfway there."
Theodore Roosevelt
"The nitrogen in our DNA, the calcium in our teeth, the iron in our blood, the carbon in our apple pies were made in the interiors of collapsing stars. We are made of star stuff."
Carl Sagan
"The best way to cheer yourself is to try to cheer someone else up."
Mark Twain
"You don't need fancy things to feel good. You can hug a puppy. You can buy a can of paint and surround yourself with color. You can plant a flower and watch it grow. You can decide to start over and let other people start over too."
Joan Bauer
"Although the world is full of suffering, it is also full of the overcoming of it."
Helen Keller
"I can't change the direction of the wind, but I can adjust my sails to always reach my destination."
Jimmy Dean
"We can bring positive energy into our daily lives by smiling more, talking to strangers in line, replacing handshakes with hugs, and calling our friends just to tell them we love them."
Brandon Jenner
"Sometimes your joy is the source of your smile, but sometimes, your smile can be the source of your joy."
Thich Nhat Hanh
Inspirational Feel Good Quotes
"When you arise in the morning, think of what a precious privilege it is to be alive – to breathe, to think, to enjoy, to love."
Marcus Aurelius
"Your time is limited, so don't waste it living someone else's life."
Steve Jobs
"When I do good, I feel good. When I do bad, I feel bad. And that's my religion."
Abraham Lincoln
"Take a deep breath. Inhale peace, exhale happiness."
A.D. Posey
"The only limit to your impact is your imagination and commitment."
Tony Robbins
"You are a very special person. There is only one like you in the whole world. There's never been anyone exactly like you before, and there will never be again. Only you. And people can like you exactly as you are."
Fred Rogers
"The world is full of magical things, patiently waiting for our senses to grow sharper."
W.B. Yeats
"Do not set aside your happiness. Do not wait to be happy in the future. The best time to be happy is always now."
Roy T. Bennett
"There's as many atoms in a single molecule of your DNA as there are stars in the typical galaxy. We are, each of us, a little universe."
Neil deGrasse
"You are braver than you believe, stronger than you seem and smarter than you think."
A. A. Milne
"Learn to value yourself, which means: fight for your happiness."
Ayn Rand
"Whatever you think you do well, do it. There is nothing better than feeling gratified."
Mike McManus
"Whoever is happy will make others happy."
Anne Frank
"Yesterday is history, tomorrow is a mystery, but today is a gift; that's why it's called The Present."
Bil Keane
"Appreciation is the highest form of prayer, for it acknowledges the presence of good wherever you shine the light of your thankful thoughts."
Alen Cohen
"A calm mind brings inner strength and self-confidence, so that's very important for good health."
Dalai Lama
"If you want to be happy, do not dwell in the past, do not worry about the future, focus on living fully in the present."
Roy T. Bennett
"Try to be a rainbow in someone else's cloud."
Maya Angelou
"It is important for me to focus on positive actions taken to heal instead of beating myself up over what I did wrong each day. It shifts my perspective, thus making my body and mind more hospitable places for healing and positive energy."
Sharon E. Rainey
"Do something today that your future self will thank you for."
Sean Patrick Flanery
Motivational Feel Good Quotes
"The true secret of happiness lies in taking a genuine interest in all the details of daily life."
William Morris
"Do not let anyone define your limits because of where you come from. Your only limit is your soul."
Gusteau (from the movie Ratatouille)
"Every day is a new day, and you'll never be able to find happiness if you don't move on."
Carrie Underwood
"What you get by achieving your goals is not as important as what you become by achieving your goals."
Zig Ziglar
"If you can't fly then run, if you can't run then walk, if you can't walk then crawl, but whatever you do, you have to keep moving forward."
Martin Luther King Jr.
"Everything will line up perfectly when knowing and living the truth becomes more important than looking good."
Alen Cohen
"The harder you work for something, the greater you'll feel when you achieve it."
Susan Johanson
"Yesterday is not ours to recover, but tomorrow is ours to win or lose."
Lyndon B. Johnson
"Think positive, feel positive and positive things will happen."
Unknown
"If you find serenity and happiness, some may be jealous. Be happy anyway."
Mother Teresa
"If you want to live a happier life then you have to create that yourself. So spread the kindness and good vibes out into your own little world and to the people you care about."
Unknown
"The secret of happiness is freedom, the secret of freedom is courage."
Carrie Jones
"If you want to be happy, set a goal that commands your thoughts, liberates your energy, and inspires your hopes."
Andrew Carnegie
"Positive thinking will let you do everything better than negative thinking will."
Zig Ziglar
"Sing like the birds sing, not worrying about who hears or what they think."
Rumi
"Great things never come from comfort zones."
Ben Francia
Wise Feel Good Quotes
"The greatest happiness you can have is knowing that you do not necessarily require happiness."
William Saroyan
"If you want others to be happy, practice compassion. If you want to be happy, practice compassion."
Dalai Lama
"The world is full of people looking for spectacular happiness while they snub contentment."
Doug Larson
"Gratitude helps you to grow and expand; gratitude brings joy and laughter into your life and into the lives of all those around you."
Eileen Candy
"There is no happiness like that of being loved by your fellow creatures, and feeling that your presence is an addition to their comfort."
Charlotte Bronte
"It's a funny thing about life, once you begin to take note of the things you are grateful for, you begin to lose sight of the things that you lack."
Germany Kent
"Happiness is distraction from human tragedy."
J.M. Reinoso
"You do not find a happy life. You make it."
Camilla Eyring Kimball
"It isn't what you have or who you are or where you are or what you are doing that makes you happy or unhappy. It is what you think about it."
Dale Carnegie
"If there were in the world today any large number of people who desired their own happiness more than they desired the unhappiness of others, we could have a paradise in a few years."
Bertrand Russell
"Life is like riding a bicycle. To keep your balance, you must keep moving."
Albert Einstein
"To love and be loved. That is the true meaning of a life well lived."
Unknown
"Be faithful in small things because it is in them that your strength lies."
Mother Teresa
"If you are depressed you are living in the past. If you are anxious you're living in the future. If you are at peace you are living in the present."
Lao Tzu
"The true secret of happiness lies in taking a genuine interest in all the details of daily life."
William Morris
"Happiness grows at our own firesides, and is not to be picked in strangers' gardens."
Douglas Jerrold
Feel Good Quotes About Happiness
"If you want happiness for an hour — take a nap.'
If you want happiness for a day — go fishing.
If you want happiness for a year — inherit a fortune.
If you want happiness for a lifetime — help someone else."
Chinese Proverb
"Don't underestimate the value of Doing Nothing, of just going along, listening to all the things you can't hear, and not bothering."
Winnie the Pooh
"We tend to forget that happiness doesn't come as a result of getting something we don't have, but rather of recognizing and appreciating what we do have."
Frederick Keonig
"Thousands of candles can be lighted from a single candle, and the life of the candle will not be shortened. Happiness never decreases by being shared."
Buddha
"To be kind to all, to like many and love a few, to be needed and wanted by those we love, is certainly the nearest we can come to happiness."
Mary Stuart
"It's been my experience that you can nearly always enjoy things if you make up your mind firmly that you will."
L.M. Montgomery
"For every minute you are angry you lose sixty seconds of happiness."
Ralph Waldo Emerson
"I, not events, have the power to make me happy or unhappy today. I can choose which it shall be. Yesterday is dead, tomorrow hasn't arrived yet. I have just one day, today, and I'm going to be happy in it."
Groucho Marx
"Many persons have a wrong idea of what constitutes true happiness. It is not attained through self-gratification but through fidelity to a worthy purpose."
Helen Keller
"Since you get more joy out of giving joy to others, you should put a good deal of thought into the happiness that you are able to give."
Eleanor Roosevelt
"Time you enjoy wasting is not wasted time."
Marthe Troly-Curtin
"Action may not always bring happiness; but there is no happiness without action."
Benjamin Disraeli
"A table, a chair, a bowl of fruit and a violin; what else does a man need to be happy?"
Albert Einstein
"The pleasure which we most rarely experience gives us greatest delight."
Epictetus
"Happiness is nothing more than good health and a bad memory."
Albert Schweitzer
"The best years of your life are the ones in which you decide your problems are your own. You do not blame them on your mother, the ecology, or the president. You realize that you control your own destiny."
Albert Ellis
"Happiness is when what you think, what you say, and what you do are in harmony."
Mahatma Gandhi
"No act of kindness, no matter how small, is ever wasted."
Aesop
"Everyone wants to live on top of the mountain, but all the happiness and growth occurs while you're climbing it."
Andy Rooney
"Happiness depends upon ourselves."
Aristotle
Short Feel Good Quotes
"Think of all the beauty still left around you and be happy."
Anne Frank
"No medicine cures what happiness cannot."
Gabriel Garcia Marquez
"When you have a dream, you've got to grab it and never let go."
Carol Burnett
"Sanity and happiness are an impossible combination."
Mark Twain
"For a good life… motivation, inner peace and positive vibes as often as you can."
Unknown
"You can't be happy unless you're unhappy sometimes."
Lauren Oliver
"Wake up with determination. Go to bed with satisfaction."
George Horace Lorimer
"Happiness is the interval between periods of unhappiness."
Don Marquis
"The struggle you're in today is developing the strength you need tomorrow."
Robert Tew
"Keep your face to the sunshine and you cannot see a shadow."
Helen Keller
"Pessimism leads to weakness, optimism to power."
William James
Just because you fail once doesn't mean you're gonna fail at everything."
Marilyn Monroe
Quick and Empowering Feel Good Quotes
"Nothing is impossible. The word itself says "I'm possible!"
Audrey Hepburn
"Life is a fairy tale. Live it with wonder and amazement."
Welwyn Wilton Katz
"Happiness is not a state to arrive at, but a manner of traveling."
Margaret Lee Runbeck
"Being happy never goes out of style."
Lily Pulitzer
"Focus on an ocean of positives, not a puddle of negatives."
Kevin Ansbro
"Only I can change my life. No one else can do it for me."
Carol Burnett
"A man sees in the world what he carries in his heart."
Johann Wolfgang von Goethe
"Be a positive energy trampoline — absorb what you need and rebound more back."
Dave Carolan
"It always seems impossible until it's done."
Nelson Mandela
"You alone are enough. You have nothing to prove to anybody."
Maya Angelou
"Don't wait for an opportunity. Create it."
George Bernard Shaw
"Shine like the whole universe is yours."
Rumi
If you liked these feel good quotes then share them with family or maybe a friend on social media or via email.
Want more motivation and inspirational quotes? Check out this post with quotes about thankfulness and this one with everything will be OK quotes.