A 29-year-old man has chronicled his incredible weight loss in a series of selfies taken over a two-year period in which he shed 160 pounds.
Adult obesity is a very real and very dangerous problem for a large part of society. According to the CDC, U.S. obesity prevalence has increased from 30.5 percent to 41.9 percent over the past 20 years.
Heart disease, stroke, type 2 diabetes and cancer are just a handful of the obesity-related conditions adults risk developing if they fail to address the issue. But while that type of change might seem like a daunting task, people like Bishoi Khella are living proof of what can be accomplished.
Khella doesn't know exactly how much he weighed when he was at his heaviest. "I avoided the scale at all costs," he told Newsweek. "I didn't want to know—because it's one thing to know you're overweight, but it's another to know exactly how overweight you are and still do absolutely nothing about it."
Even so, his heaviest recorded weight came in at 352 pounds. Today, he weighs 187, and has a body fat index of just 10.9 percent, something Khella is "super proud of" given where he started.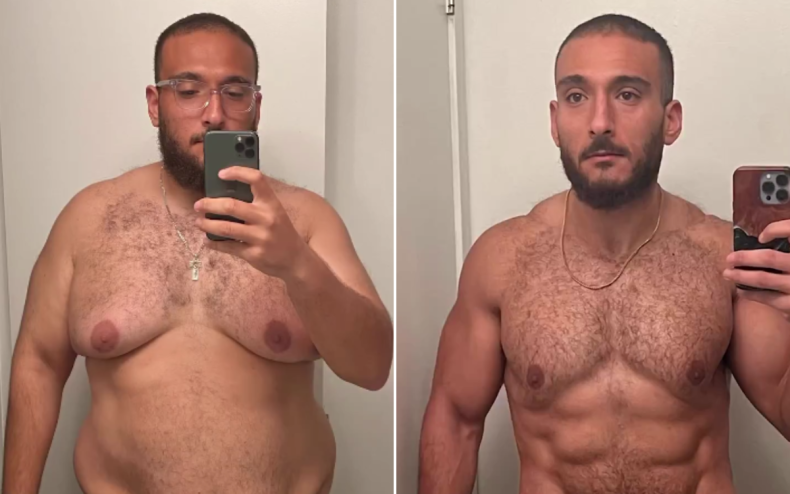 "I was always the overweight kid growing up," he said. "I know a lot of overweight kids are constantly bullied and pushed around for their weight but that wasn't really the case for me. I found that the way I could get people to like me, the way I wouldn't be made fun of was being the funny kid."
As he got older, he fell into a lifestyle of late nights, drinking and takeout. "I wasn't an alcoholic or anything but we did drink and party quite a bit around the time I got super overweight, which usually involves the next day being hungover sitting on the couch all day, watching TV, falling in and out of sleep while eating as much junk food as we possibly can," he said.
Khella said there's a five-year period in his life when he "can't remember cooking a single home cooked meal," living from one takeout to the next while running the business he co-founded, TruWood, in Toronto.
"I'd wake up, instantly turn over and order food delivery for breakfast," he said. "I'm talking burgers, McDonald's, pizza. While I was waiting for the food to get delivered, I'd be on the balcony chugging down coffee while smoking a few cigarettes. When It got delivered, I'd take it to my bedroom, sit in bed, put on a random YouTube video and eat. I'd eat so much to the point where I'd be ready to fall back asleep. I'd wake up, and work on my laptop for the rest of the day until the evening came around where I'd redo the whole thing."
While a sudden panic attack in 2018 set alarm bells ringing, Khella said the final straw came during a trip to Mexico with his friends in February 2021.
"My friends absolutely had a blast," he said. "I hated it. It was the height of COVID, the resorts were empty—there wasn't much partying going on. And so instead of the main focus of the trip being chilling in a pool drinking, they made the most of it by doing activities like jet skiing, walks on the beach, exploring the resort, ATVing, exploring the city—things I couldn't enjoy doing because everything was a struggle. When we got back from that trip, I remember thinking, this is it, enough of this."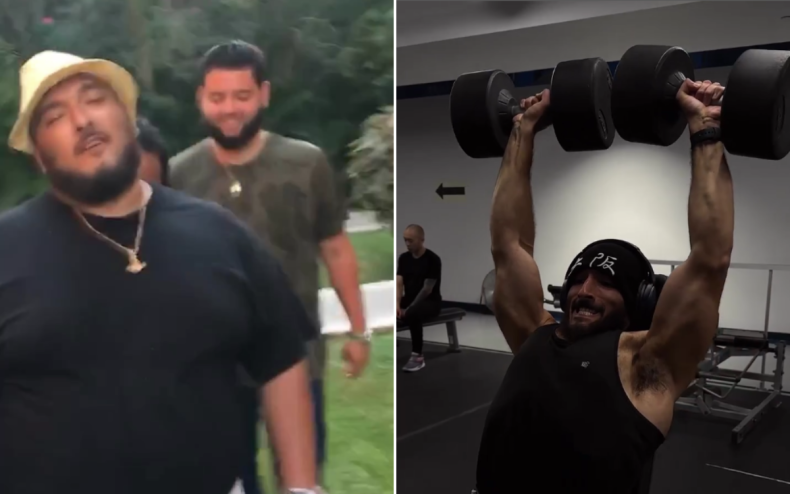 With the help of a "good support system" of friends and his brother, he enrolled in the 75 hard mental toughness program by Andy Frisella, which involved two 45-minute workouts a day, one of which had to be outside. As part of the program, Khella had to drink a gallon of water while alcohol and cheat meals were prohibited for 75 straight days. Along the way, he was also required to take a daily progress picture. Those images formed the basis of a video Khella shared to Instagram to highlight his weight loss.
"When I started, I had no intention of finishing. I just wanted to see how far I could take it. I couldn't even run for more than a few minutes without having to stop to catch my breath," he said. "Those 75 days were done 1 step, 1 meal, 1 day at a time. That turned into 2 years, to where I'm at now."
Now, Khella is a new man. He's quit smoking entirely, while he's also ditched the pizza and beer for a healthy diet, occasionally satiating his appetite for those tempting foods by watching "random street food cooking channels on Youtube."
His daily routine couldn't be more different either. "I wake up, chug a liter of water, get dressed and I'm out the door for my morning run. I run between 45 minutes to an hour, anywhere from 8-10 km [5-6 miles] six days a week Monday-Saturday," he said. "All my meals are weighed out. I track every single piece of food that enters my body. In the evenings, I hit the gym for a weight training session for an hour six days a week."
That might sound complicated, but Khella's number one weight loss tip is to keep things simple. "Don't over complicate things," he said. "Stop 'planning' and start doing. You don't need to know what the best running shoes are, you don't need to know what the best diet is, what the best supplements to take are, what the best time to exercise is. You're trying to perfect something that you haven't even started yet. The answers you're looking for aren't in a book, they aren't in a YouTube Video, they aren't in a specific exercise program/meal plan. They're out there on the track or in the field and in your kitchen. Get your hands dirty."
Khella's story follows on from similarly inspirational stories around weight, such as the obese Michigan teen who shed 140 pounds after a stark warning from doctors. In another instance, a couple lost 175 pounds ahead of a close friend's wedding.