A regular series on the latest clinical studies from around the world – and what they mean 'in practice', compiled and written by Clare GP Dr Ray O'Connor
**********
Physical activity (PA) is the gift that keeps on giving. The authors of this Cochrane Systematic Review1 asked whether routine walking lowers BP. The review included 73 randomized controlled trials and 5,763 participants, who were 16 to 84 years of age and normotensive or hypertensive with various health conditions. Walking as an intervention occurred in multiple environments, including at the participant's home, in the local community, or in a laboratory with a treadmill. The intensity of activity was described as 'moderate'. The authors found that walking lowers systolic blood pressure by 4.11 mm Hg and diastolic blood pressure by 1.79mm Hg. It also lowers resting heart rate by 2.76 beats per minute.
But how likely are primary care healthcare professionals (PC HCPs) to advise PA to their patients? Another Systematic Review of brief interventions for PA in primary care that involve screening and/or advice concluded that this is not delivered frequently or consistently by PC HCPs.2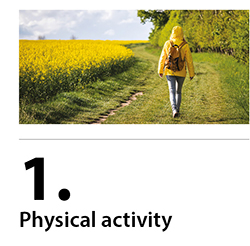 Addressing barriers to delivery through system-level changes and training programmes could improve and increase the advice given. Barriers included a lack of time, training and guidelines. Also, understanding when patients are receptive to PA interventions could enhance HCPs confidence in their delivery.
When PC HCPs do give this advice, how effective is it? Yet another systematic review studied the effectiveness of physical activity interventions delivered or prompted by health professionals in primary care settings.3 The authors studied 46 randomised controlled trials (involving over 16,000 patients) of aerobic-based physical activity interventions delivered or prompted by PC HCPs with a usual care control group. They concluded that PA interventions delivered or prompted by PC HCPs appear effective at increasing participation in self-reported moderate to vigorous physical activity. Such interventions should be considered for routine implementation.
Finally, when patients are referred to a medical exercise programme following a cardiac event (infarction or revascularisation procedure), what are the barriers and facilitators to their ongoing attendance? This was the subject of a qualitative study by a research group from the University of Limerick Medical Exercise Programme (ULMedX).4 The study concluded that participants are more likely to have had a better experience and commit to the programme if they believed involvement would benefit their physical and mental health. Also, engendering a positive attitude to exercise was found to increase their exercise motivation. Finally, it was important that the ability to attend was within their control. This latter point referred to the need to improve access to the programme either in person or online.
References:
Ling Ling Lee , Mulvaney C, Yoko Kin Wong, Edwin SY Chan et al. 'Walking for Hypertension. CDSR 2021' https://doi.org/10.1002/14651858.CD008823.pub2.
Hall LH, Thornelow R, Rodriguez-Lopez R, Grice A, et al. 'Delivering brief physical activity interventions in primary care: a systematic review'. Br J Gen Pract 2021; DOI: https://doi.org/10.3399/BJGP.2021.0312.
Kettle V, Madigan V, Coombe A, Graham A et al. 'Effectiveness of physical activity interventions delivered or prompted by health professionals in primary care settings: systematic review and meta-analysis of randomised controlled trials'. BMJ 2022;376:e068465 | doi: 10.1136/bmj-2021-068465.
Bourke A, Niranjan V, O'Connor R, Woods C. 'Barriers to and motives for engagement in an exercise-based cardiac rehabilitation programme in Ireland: a qualitative study'. BMC Primary Care (2022) 23:28 https://doi.org/10.1186/s12875-022-01637-7.
**********
So what effect is all this work having on PC HCPs? One study from Denmark looked at the important topic of burnout among GPs. It was a two-wave nationwide survey (2016 and 2019) based on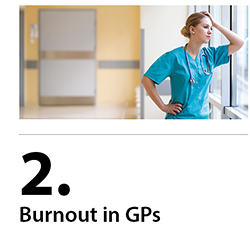 questionnaire data sent to 1,059 GPs. The response rates were good by medical standards, with 51 per cent in 2016 and 56 per cent in 2019. The findings were that the coping strategies employed by GPs during time pressure at work are associated with their composite burnout score three years later.
Compromising the quality of work, delaying tasks, postponing decisions and arranging a new consultation with the patient and reducing breaks (length or number) were all coping strategies that prospectively increased the risk burnout. Staying longer at work was not associated with the risk of a high burnout score. An interesting finding was that the risk of a high burnout score more than tripled in the GPs who did not seek help (despite awareness of potential benefits) compared with the GPs who reported no need to seek help. Nearly one in four GPs reported a high burnout score in both 2016 and 2019.
Reference:
Pedersen AF, Vedsted P. 'Burnout, coping strategies and help-seeking in general practitioners: a two-wave survey study in Denmark'. BMJ Open 2022;12:e051867. doi:10.1136/bmjopen-2021-051867.
**********
But are these online programmes effective? Yes, seems to be the answer.
The first study looked at the effectiveness of a digital diabetes prevention programme (d-DPP) which was delivered through Internet-enabled devices such as laptop, tablet, or smartphone.1
With the increasing burden of type 2 diabetes globally, efforts are ongoing to increase the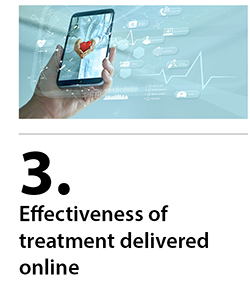 accessibility of DPPs. This study was a single-blind randomised controlled trial (RCT) among participants at risk of developing type 2 diabetes, and included 12 months of follow-up. Parameters that were studied included weight, HbA1c, and cardiovascular risk factors among people with prediabetes compared to enhanced standard care.
The participants were 599 volunteer patients with prediabetes, who were recruited primarily through electronic medical records and primary care practices. The d-DPP produced significantly greater reductions in HbA1c and percentage change in body weight at 12 months. A greater proportion of the d-DPP group achieved a clinically significant weight loss ≥5 per cent (43 per cent vs 21 per cent), and more participants shifted from prediabetes to normal HbA1c range (58 per cent vs 48 per cent).
The authors concluded that d-DPPs demonstrated clinical effectiveness and have significant potential for widespread dissemination and impact, particularly considering the growing demand for telemedicine in preventive healthcare services.
The second study was also an RCT that looked at effectiveness of computer-assisted cognitive behaviour therapy (CCBT) compared with usual care in treating depression among adults in primary care.2
CCBT included use of the 9-lesson computer program (called 'Good Days Ahead'), along with as many as 12 weekly telephonic support sessions of approximately 20 minutes with a Master's level therapist, in addition to treatment as usual. The study was based on primary care patients in Louisville, Kentucky, USA.
The 175 study patients were 85 per cent female and had a high proportion of individuals who identified as racial and ethnic minority groups. An intent-to-treat analysis found that CCBT led to significantly greater improvement in depression scores. Also, post-treatment response and remission rates were significantly higher for CCBT group.
Because the study population included people with lower income and lack of internet access who typically have been underrepresented or not included in earlier investigations of CCBT, the authors suggest that this form of treatment can be acceptable and useful in diverse primary care settings.
References:
Katula J, Dressler E, Kittel C, Harvin L et al. 'Effects of a Digital Diabetes Prevention Program:
An RCT'. Am J Prev Med 2021;000(000):1−11 1. https://doi.org/10.1016/j.amepre.2021.10.023.
Wright J, Owen J, Eells T, Antle B et al. 'Effect of Computer-Assisted Cognitive Behavior Therapy vs Usual Care on Depression Among Adults in Primary Care A Randomized Clinical Trial'. JAMA Network Open. 2022;5(2):e2146716. doi:10.1001/jamanetworkopen.2021.46716.
**********
But is there a downside to all this online activity? Humans thrive on meaningful social connections. Feelings of loneliness set in when a discrepancy exists between one's desired and one's actual level of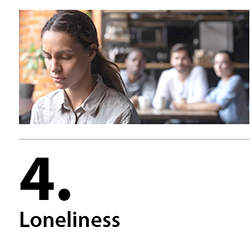 social relationships. Growing evidence has linked loneliness to various adverse health outcomes, including high blood pressure, increased cholesterol levels and coronary heart disease.
This study was a systematic review and meta-analysis looking at the prevalence of loneliness across 113 countries. The age groups studied were 12-17, 18-29, 30-59 and >60 years. Data for all age groups except adolescents were lacking outside of Europe. Overall, estimates for 106 countries from 24 studies were included in meta-analyses.
The pooled prevalence of loneliness for adolescents ranged from 9.2 per cent in South-East Asia to 14.4 per cent in the Eastern Mediterranean region. For adults, meta-analysis was conducted for the European region only, and a consistent geographical pattern was shown for all adult age groups.
The lowest prevalence of loneliness was consistently observed in northern European countries (2.9 per cent for young adults; 2.7 per cent for middle aged adults, and 5.2 per cent for older adults). The highest levels were in eastern European countries (7.5 per cent for young adults; 9.6 per cent for middle aged adults; and 21.3 per cent for older adults). Data were insufficient to make conclusions about temporal trends.
Reference:
**********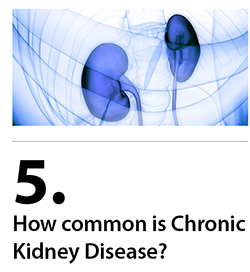 The answer is illustrated clearly in this 'Quickstat' report from the Centers for Disease Control in America.1 It shows a higher prevalence in males, as well as an alarming increase in those aged over 65 years.
Reference:
Weeks JD. 'Percentage of Adults Aged ≥18 Years with Kidney Disease, by Age Group and Sex — National Health Interview Survey, United States, July–December 2020'. MMWR / March 4, 2022 / Vol. 71 / No. 9.
All pics: Getty Images