Let it be known that Priya Kansara is just getting started.
The up-and-coming actor always knew she wanted to be a star since childhood. She landed her first acting gig as Miss Eaton, one Anthony Bridgerton's eager debutantes, on the second season of Netflix's hit series "Bridgerton." She then appeared in the Netflix series, "The Bastard Son & The Devil Himself," before securing her first major acting role in Nida Manzoor's action comedy film "Polite Society."
The film follows a British-Pakistani high schooler named Ria Khan (Kansara) who dreams of becoming a professional stuntwoman. Ria is big on making her dreams come true. And, she's set on making sure her sister, Lena (Ritu Arya), goes back to art school to pursue her creative passions. But things soon take an unexpected — and horrific — turn for the worse when Lena announces her engagement to a dashing surgeon, who happens to also be a stereotypical "momma's boy," named Salim. Battling against parental doubts and societal norms, Ria decides she must do whatever it takes — which entails landing one of her most difficult stunts ever — to save her sister and restore their bond.
Sure, "Polite Society" has its fair share of action scenes and edge-of-your-seat fights, but the movie is less about Ria's physical feats and more about sisterhood and her own identity, namely as a rebellious, out-spoken South Asian woman who isn't afraid to stand up for herself and her loved ones. 
"I've been living with this bloody psychotic character in the head for over 10 years and then a brilliant, kind, generous actor comes and just totally just gives her everything to it and is so talented," Manzoor, who is also the creator of the acclaimed sitcom "We Are Lady Parts," told IndieWire. "I just felt free when I cast her and I felt free every day on set."
Indeed, Kansara plays Ria with spunk and a youthful vigor that makes it hard not to reminisce on one's own adolescent years. In anticipation of the film's April 28th release, Salon spoke with Kansara about her recent role, along with her experience in martial arts, off-screen relationship with her fellow co-star and favorite Bollywood films.
I really enjoyed watching "Polite Society" — I laughed, I cried and, basically, went through all the emotions. To start, I'm curious to know what your first impressions of your character were? What were your thoughts when you read the script for the very first time?
Oh, my first thoughts when I was reading the script is that this is absolutely bonkers! Like, this is crazy. I've never read anything like it before. There's just so many genres. I was laughing out loud and there's just so many twists in the story as well. So, you know, when you can't put something down? It felt like that. I was just like, 'This is so original and fresh.' I really wanted to be a part of it. And Ria… it's really interesting, I remember speaking to Nida about it and she was like, 'She can be quite annoying.' I just never saw her as an annoying teenager. I just always saw her as this kid that just was relentless. She knows what she wants. She loves her family and she will go to the ends of the Earth to save them. It's really that simple for her. And, to play somebody so spirited and somebody that, in a way, really inspires me, I just kind of fell in love with her a little bit. So, I knew that there was just such a strong connection.
Have you trained in martial arts prior to starring in this film? Or did you start training once you got the role? And how did you prepare for all your stunts?
I never really done any kind of stunts like this before. Yeah, it was completely brand new to me. And I was cast around six or seven weeks before we started shooting. So, I worked really closely with our stunt team who are just incredible. We spent three, sometimes four, days a week training prior to the shoot to learn all the fight choreography and the form of martial art within that. We used to practice the wire stunts for the flying kick and all of this stuff. I honestly just had so much fun doing it. I felt like it was so cool to learn this new skill and I still do martial arts today because I just love it so much! So, I continued learning afterwards.
I also heard, and correct me if I'm wrong, that you scaled a building in preparation for a scene? Tell me more about that.
There's this scene where Ria climbs into Salim's bedroom. She scales the building and we actually did shoot me scaling that building, so that was more in reference to shooting that scene. You know, I remember walking onto set that day and we had a little practice in the morning along the building. There were these massive cranes holding us up and they put me in a harness, which definitely gave me a bit of a wedgie when I was trying to pull myself up across the wall, which was really funny. There were just so many different, fun things that we got to physically do and try. So yeah, it was really cool.
Ria is also known as 'The Fury.' And throughout the film, she repeats her signature mantra, "I am the Fury," which I found to be very empowering and badass. I'm curious if that mantra also resonated with you on a personal level.
Yes, absolutely! In so many ways did it resonate with me. I feel like I can sometimes be incredibly self-deprecating to myself — sometimes we just don't treat ourselves with enough kindness. And I think it's particularly women, because we're often told to do that to others and less so to think of ourselves in very many situations. And so, to play a character who has this sense of self belief and who has this mantra that they say to themselves every day and who is their own strength, that was so empowering and really inspiring to me as well.
"To play a character who has this sense of self belief and who has this mantra that they say to themselves every day and who is their own strength, that was so empowering and really inspiring to me as well."
Sometimes when I'm in the gym, I'm like, 'Ria would go for another 10 minutes. Priya you are the fury. Priya you are the fury!' And it's just really nice to kind of have that. And even the fact that she's the fury, rage and fury are things that, particularly as women, we just don't get to express very much. And God, to have that cathartic release through this film and to remind ourselves that we are the fury we are allowed to feel fury that that is allowed is just, again, super empowering.
Speaking of womanhood and sisterhood, one thing I really loved about the film is Rhea and Lena's sisterly bond. What's your relationship like with Ritu off-screen? And how did you both bring that chemistry and sisterhood to life on-screen?
Oh my God, I love Ritu. She is like a sister to me. We get along so well and it was so easy. I remember the first time I met her was in rehearsal and she came to give me this lovely present. We met a couple of times before we started the shoot, you know, she made me an omelet and made me breakfast. We just hung out. I think for us as well, to have such an easy kind of chemistry and to feel so comfortable with each other so quickly made the whole process quick and it was just super simple. And we got to kind of feel like sisters. You know when you kind of develop your own language? Only you guys find these things funny or you guys are messing about or poking fun at each other for different things. Hopefully that just came through on screen. We learn a lot from each other and really support each other and care for one another. It's just been really wonderful to work with her.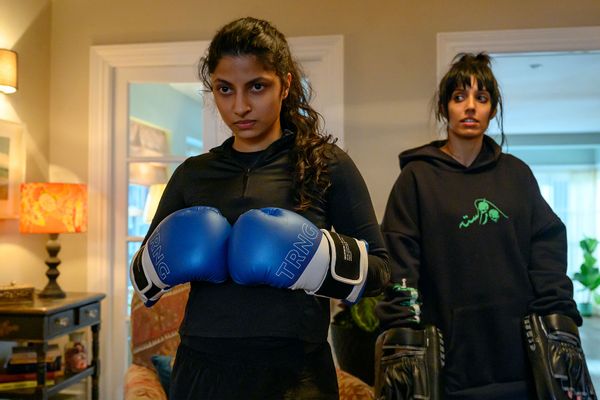 Priya Kansara and Ritu Arya from "Polite Society" (Photo courtesy of Focus Features)
I was also in complete awe when Ria was kicking some major butt while wearing heavy pieces of jewelry and an anarkali (Indian wedding attire). What were some challenges that you encountered when doing your final stunts?
We worked really really closely with makeup and hair and our costume department. Something that was really important was how the costumes would have this movement so that we could have this synergy between the costumes and the fight sequences. I think the fights are really epic because Ria's anarkali moves when she fights or when she does the backflips and all of this kind of stuff. And that was really fun to do. I remember having to practice a couple of times, particularly in wire stunts with a costume so that we could figure out how that works. But there were challenges. Ria has this really long cap that she wears within the wedding sequence. And occasionally, we'd do flips and my cap would get caught on a piece of jewelry and it would just be hanging there really weirdly. So, we'd have to figure out these random logistical things. That was a really fun challenge and kind of a learning curve for all of us.
Ria looks up to and greatly admires stunt double Eunice Huthart. Do you have someone in Hollywood (or the entertainment industry) who you also look up to and greatly admire?
I'm kind of envious of people who have that one person. I was so lucky to have so much influence of film and TV and performance and theater when growing up because my parents tried to take us to the theater every Christmas and that kind of a thing. So for me, there were so many things. My mom loves Bollywood, my dad loves action. I was growing up watching such an array of things that there's not one person that sticks out to me. There are so many women in the industry as well that have inspired me: Viola Davis, Michelle Yeoh, Meryl Streep, actors like them. And even people like Mindy Kaling, who have made such a huge mark for South Asian women in the industry as well. Honestly, the list is endless. I feel grateful to have loads of people to be that poster on my wall.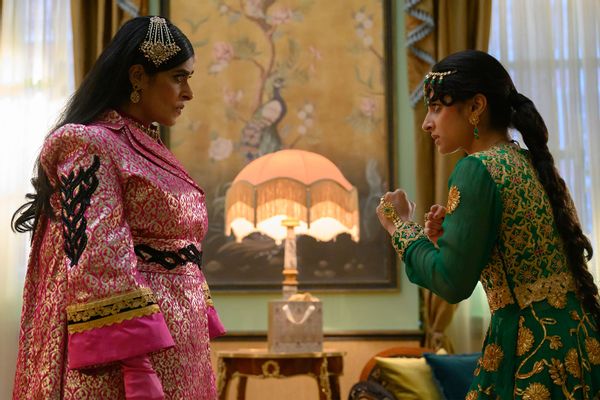 Priya Kansara and Nimra Bucha from "Polite Society" (Photo courtesy of Focus Features)
Malala recently gave a shout out to "Polite Society" and praised your "dynamite performance." How does it feel to receive that kind of recognition, admiration and acclaim?
It means the absolute absolute world! I'm consistently pinching myself. Every morning, I'm like, 'It's real. It's happening.' I feel really lucky to be in this position. I admire Malala for her activism, her bravery, her intellect. She's done so many incredible things and for her to give us a shout out is insane. What is life? You know, it's crazy! I have no words. It's so, so special.
You previously starred in "Bridgerton," but "Polite Society" marks your first major role in a film. What did you learn from this experience? Were there any specific moments from the entire process that surprised you?
Everything felt new to me. Of course, there are differences between TV and film as well and the way in which they're structured. I mean, I'm so lucky to work on shows like "Bridgerton," where I had such an incredible kind of starting point. Those were the times I had a trainer for the first time. I got to see a call sheet for the first time and know how sets work. But on "Polite Society," it was so different because I was there every day. And Ria's role is so integral to this film, to work so closely with every department, and we need to develop her in the way that I could be. I felt like I was trying to be as much of a sponge as I possibly could to try and take in as much as I could learn from all of the incredible people that I've had the opportunity to work with. It has just been such a blessing and such an incredible opportunity.
Considering that the film has several Bollywood influences, I must know what your top three favorite Bollywood movies are.
I have so many! Can I say four?
Sure!
Oh my gosh! "Lagaan," "Kuch Kuch Hota Hai," "Bunty Aur Babli," and "Jab We Met."
I also must know, what's next for you? What are you working on in the future or in the near future?
At the moment, we've been so busy with the promotion for this film and being so excited to have this release to the world. I've been so lucky to have things come through the door and reading some super interesting projects and having those things trickle in the background. So hopefully, I'll be able to announce cool stuff in the coming months and that would be amazing. But for now, I guess we're just so excited to bring this to the forefront and have you all, hopefully, go out and see it and enjoy it!
"Polite Society" is currently playing in theatres. Watch a trailer for it below, via YouTube:
Read more
about culture interviews: