Ron Cooper begins every Monday morning with a workout that most people might not be able to fit into a week: 30 push-ups every minute, for 30 minutes, wearing a 20-pound backpack. He grabs his stopwatch, throws the dumbbell-filled pack over his shoulders, and gets to work. Down, up, down, up.
Nine-hundred push-ups is child's play for Cooper, whose nickname in the fitness world—the "pull-up guy"—refers to an entirely different prowess. Discipline and repetition have helped Cooper, a financial advisor by day and father of two, break 29 Guinness World Records in feats of strength, including the four he actively holds.
The most:
More From Runner's World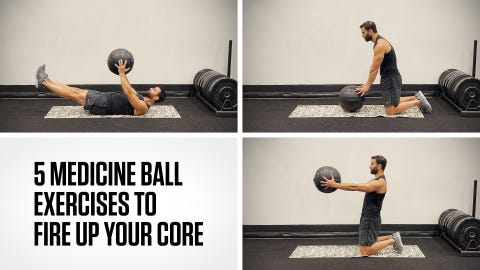 Chest-to-bar chin-ups in one minute (33)
Step-ups in one minute with a 40-pound pack (60)
Step-ups in one minute with a 60-pound pack (60)
Step-ups in one minute with an 80-pound pack (54)
But despite earning a reputation as an upper-body-workout warrior, Cooper (a Runner's World+ member) doesn't limit his athletic endeavors to strength-based challenges—he's also a blazing-fast runner. In June 2022, the 44-year-old clocked a 17:13 PR at the Boston Waterfront 5K, taking 6th place in a field of 637. While Cooper runs only once or twice a week because of nagging injuries, he's plenty proud of his race PRs. "I'm just as psyched when I hit a running goal as when I break a world record," he says.
Chase Greatness
In high school, Cooper was convinced his talents lay in the short sprints and jumps, often running the 100 meters and 200 meters, until his brother—a middle-distance stud in New England—persuaded him to try the 800 meters his junior year. Cooper took to the event instantly, placing high in his county meet and ultimately earning a spot on the Boston College track team.
Cooper's running career stagnated after graduation, but he maintained a consistent workout routine throughout his 20s. One day, in his early 30s, Cooper was watching Today, where someone was attempting the world record for the most push-ups in one minute. "I think I could beat that guy," Cooper said to himself. When he set out to take a stab at the record, however, he quickly realized the Guinness ratification process involved more than simply sending in a video. So he put the challenge on hold.
Six years later, Cooper again found inspiration from a TV show: American Ninja Warrior, the reality series where nimble athletes navigate grueling obstacle courses for a big payout. To get on the show, he reasoned, he'd need a compelling hook, which brought him back to his quest for a world record. This time, his pursuit paid off. After diligently training his upper body, Cooper broke the world record for the most pull-ups in one minute. Sure enough, he landed on ANW in 2012, and again in 2014, although both appearances ended in an early exit. "Maybe I should stick with the world records," he thought.
Test Your Limits
Even as Cooper focused on his strength and continued carving out new records, he never stopped running. "I really like the mental part of running, whether it's an easy long run or hard interval workout or a race where I go all out," he says. "There's a fantastic mental cross-training element that translates well to world record attempts."
Since Cooper specializes in setting records within a minute, he must develop a tough, calloused mindset to deal with the discomfort. "If I run a 5K in under 18 minutes, then I can handle a minute of a world record attempt," he says. As a former collegiate runner, Cooper is no stranger to difficult interval workouts on the track—a concept he's integrated into his fitness routine. (Performing 30 push-ups every minute for 30 minutes is a hellish example of an EMOM workout—Every Minute On the Minute.)
In between his world record attempts, Cooper will step off the gas to recover before ramping up the intensity of his training again when he sets his sights on a new superhuman goal. He knows burnout is all too common in running and weight training, so he takes a calm approach with his records. Cooper is obviously competitive, but his passion and longevity stem from dogged motivation. He undertakes his goals with a sense of curiosity, to explore the limits of his body, rather than bravado. That doesn't make him immune to pressure, though.
In 2015, Cooper was a last-minute addition to Today. His challenge? Break the world record for the most clap pull-ups—releasing the bar at the pinnacle of the movement and clapping—in one minute. Cooper felt the presence of the millions who were watching the live attempt, but knew he was capable. "I'll either fail really badly and we can laugh about it, or I'll have great success," he thought. Cooper gritted out 25 pull-ups, upping his old world record by four.
Set the Standard
Cooper uses his platform to encourage people of all abilities to explore the bounds of their strength. During the early days of the COVID-19 pandemic, Cooper demonstrated simple but substantive quarantine-friendly workouts that YouTube viewers could do to stay in shape at home. He's also put on record-breaking performances at each of his daughters' schools. "The greatest gift for all of this is sharing it," he says. "When it's bigger than me and when it becomes something other people get involved in, that's the real gift."
Cooper's ambitious goals are fueled by his love for competition. He feeds off the energy around a world record attempt or even a local 5K, especially when it's for a good cause, and he always has a goal on the horizon. Lately, he's been zeroing in on another personal running milestone: breaking a 5-minute mile. It's been a few years since he last dipped under the mark, but the 44-year-old is keen to see whether he still has some speed left in his legs.
In the meantime, Cooper will keep plugging away at his beastly fitness routine: two days of pull-ups, two days of push-ups, and filling in the rest of the week with hard running or cycling workouts and recovery days. While the training is repetitive, Cooper relishes the structure. "Even if I wasn't training for a world record, I'd still be doing this stuff anyway," he says. "It's such a habit now. I feel weird if I don't do it."
Newsletters Editor
Theo Kahler is the newsletters editor for Runner's World, Bicycling, and Popular Mechanics. He's a former all-conference collegiate runner who's based in Easton, PA.